This is the final week to catch some great island performances!
Feb. 19-March 5: One Blue Tarp at SJCT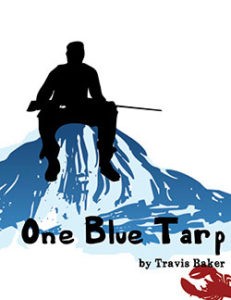 One Blue Tarp, written by Travis Baker and directed by Joy Van Camp, will be performed February 19-March 5, 2016 in the Gubelman Theatre at San Juan Community Theatre in Friday Harbor.
This charming comedy set in Maine just might ring true to many Northwesterners too.
At the heart of the plot is the rights of property owners-in this case, owner David Stillman who believes he has the right to have a big pile of junk under a blue tarp in his front yard even if it is an eyesore to tourists and his wife.
One Blue Tarp was named the "2013 Best Play for Maine" in the prestigious Clauder New England Playwright Competition, and was a finalist in the 2011 Eugene O'Neill Playwright's Workshop.
It eventually made its way to Friday Harbor's On Book! Readers Theatre series last year, receiving enthusiastic responses from full-house audiences.
Performances: Thursday, March 3, 2016 – at 7:30 p.m. Pay What You Can Thursdays – Friday, March 4 and Saturday, March 5 – at 7:30 p.m.
Tickets: Adults $19 – Students $10 – RUSH $5
Feb. 11 – March 6: "Love Letters" at Marie Boe Building
Island Stage Left presents A.R. Gurney's "Love Letters" February 11 to March 6, 2016 at the Marie Boe Building at the San Juan County Fairgrounds.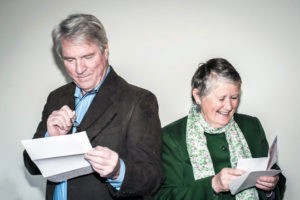 Two friends, rebellious Melissa Gardner and straight-arrow Andrew Makepeace Ladd the Third have exchanged notes, cards and letters with each other for over fifty years. From second grade, through summer vacations, to college, and well into adulthood, they have spent a lifetime physically apart, perhaps, but spiritually as close as only true lovers can be.
"a disarmingly funny and unforgettably emotional portrait about the powerful connection of love."
Performances are at 7:30 p.m. Thursdays to Saturdays; and at 4 p.m. on Sundays.
Bring your Valentine, your old friend or your new love. This wonderful, simple play encompasses them all.