With recent snowfall and windy and rainy winter days, camping might not necessarily be on people's minds! However, camping in the San Juan Islands is very popular and the campgrounds fill up quickly and the earlier you make reservations the better! And if you are a San Juan County resident, you have first dibs at county park camping reservations for the year every January! So if you are thinking of visiting the islands this summer and would like to camp, check out the following campgrounds on the four ferry-serviced islands in the San Juan Archipelago. For this blog we limited ourselves to campgrounds that are accessible by automobile, motorcycle or bicycle. We do have quite a few campgrounds that are only accessible via watercraft and we will address them in a separate blog post at a later time.
San Juan Island
San Juan Island has two County Parks with camp sites. San Juan County Park on the Westside is a beautiful campground on the water. It offers flush toilets, picnic shelter, picnic tables and grills, beach and boat launch. Please be advised that it only has a select number of RV campsites available and can only accommodate RV's under 20 feet. If you have an RV over 20 feet check out the San Juan County Fairgrounds in the town of Friday Harbor. The Fairgrounds campground offers 8 RV sites with electric and water hookups, showers and picnic tables.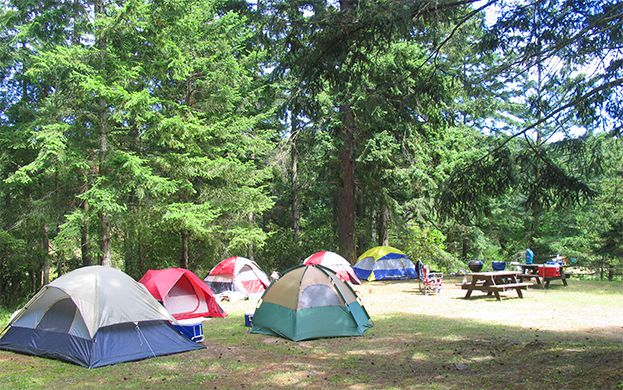 Lakedale Resort offers family lakeside camping. They offer classic, family and double campsites with picnic tables and fire pits, restrooms and shower, as well as RV sites with electric and water hookups. If you prefer to glamp instead, you can rent a canvas cabin or go even fancier with a luxury yurt.
Orcas Island
Moran State Park offers abundant camping in a spectacular setting. The park boasts 38 miles of hiking trails, five lakes and the highest point in the San Juan Island with a stone observation tower on top of Mount Constitution. The campground offers standard camp sites, with restrooms and showers. Please note that there are no electric hookups at Moran State Park. For more of a glamping experience check out LEANTO Camp Orcas, they offer canvas wall tents with real beds inside the State Park.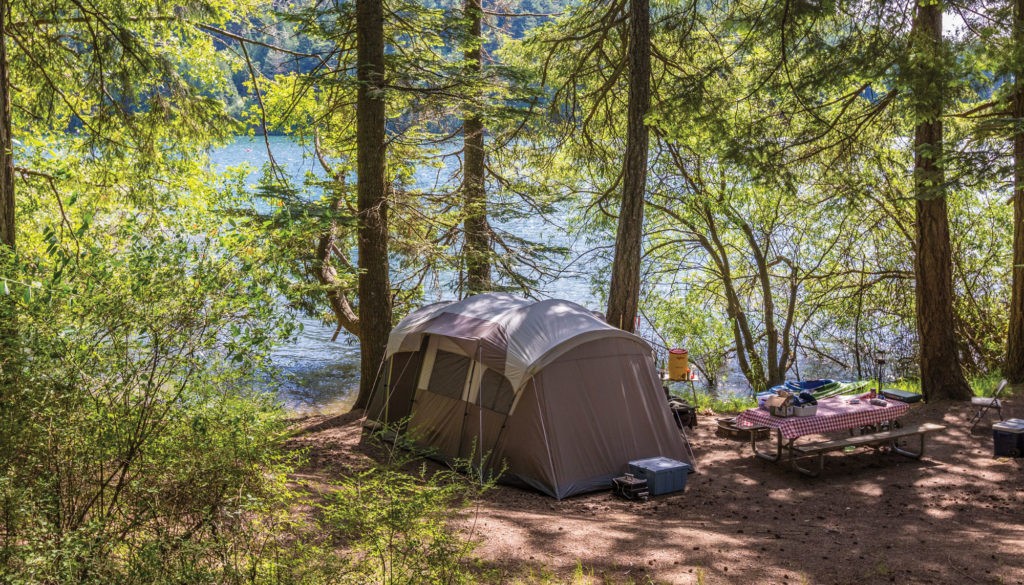 Obstruction Pass State Park offers quiet beauty with one mile of pebbly beaches, bluffs and rocky viewpoints. The park has 10 primitive campsites available. Please note that there is no potable water in the park and it is a pack-it-in, pack-it-out location.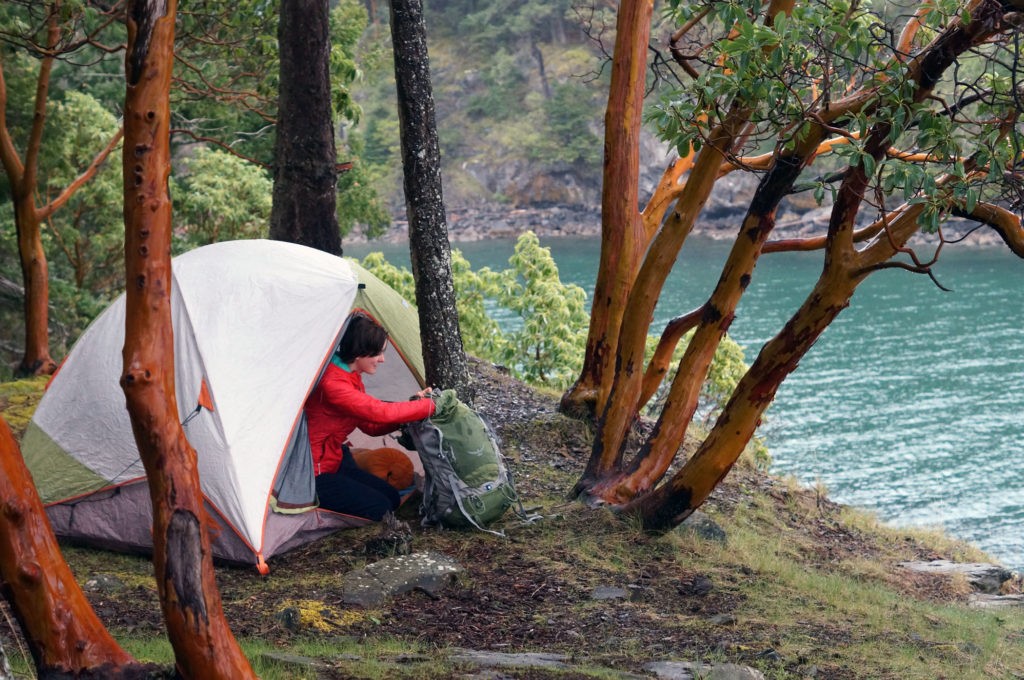 Mount Baker Farm has beautiful, self-contained campground on 80 acres of deep woods and meadows on the north side of Orcas Island. The Farm used to be a dairy farm and a lot of its history can still be seen. There are two miles of train tracks that are still used today for train rides through the woods and meadows. The village of Eastsound is within walking distance of the campgrounds. Please note that all campsites are walk-in only, no cars are allowed within the campground and they can accommodate tent camping only. Every site comes with a picnic table and a fire pit. No tent, no problem! All equipment can be rented on location!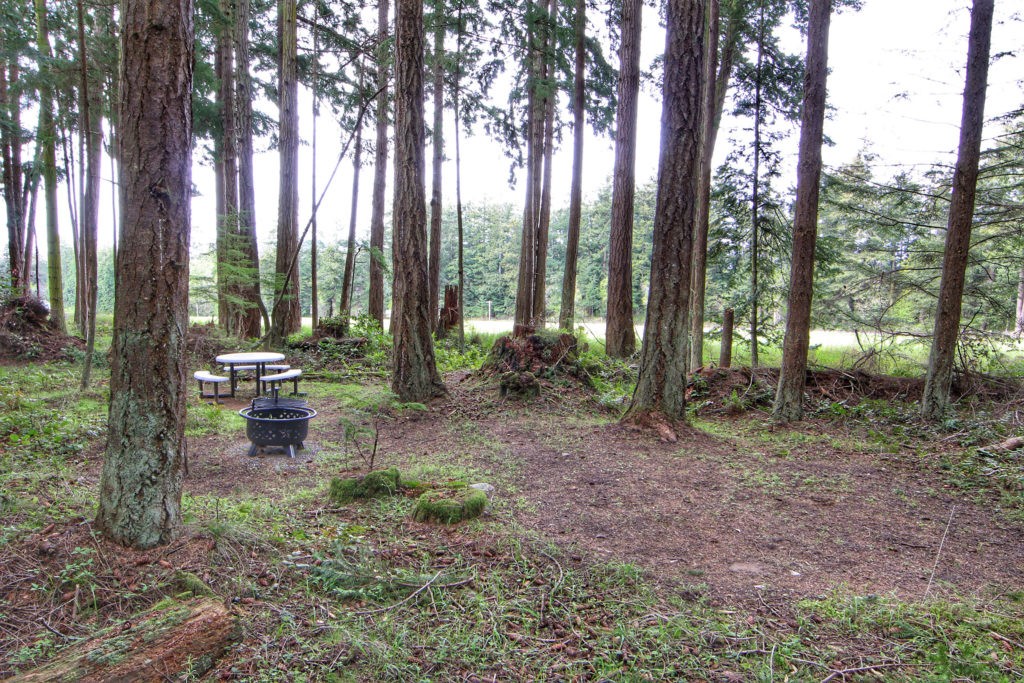 West Beach Resort offers tent camping, RV sites and tent cabins. The campground has restrooms and showers, all campsites come with picnic tables and fire pits and are just a short walk to the beach, general store and marina. The RV sites come with electric and water hookups.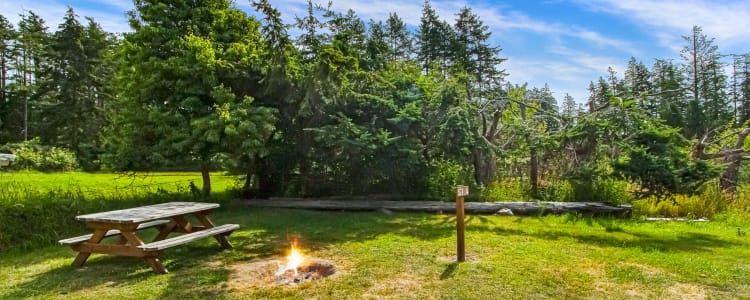 Doe Bay Resort & Retreat has both drive-in campsites and walk-in campsites. Many campsites have beautiful water views, access to bathroom with showers and shared guest kitchen and Doe Bay Resort offers extra perks with soaking tubs, sauna, massage, wellness, yoga and yummy food at the Doe Bay Café. Browse the eclectic Doe Bay Store for snacks and gifts.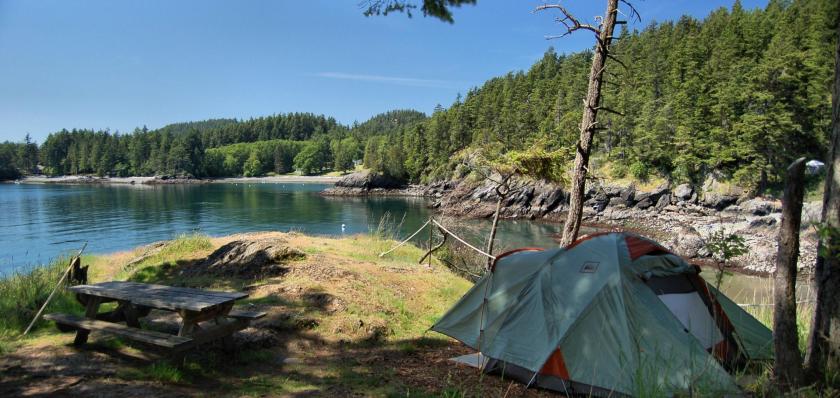 Lopez Island
Odlin County Park is another one with county resident early bird reservation perks. It is the closed campground to the Lopez ferry landing. It offers sandy beach access, free boat and kayak launch, a recreational ball field and hiking trails. The campsites come with picnic tables and fire pits. Potable water and restrooms are available. This campground does not have showers or hookups.
Spencer Spit State Park is the place to go for crabbing, clamming, saltwater fishing (all the aforementioned need proper state licensing), swimming, diving, hiking and wildlife viewing. The park offers large and private standard campsites with picnic tables and fire pits and has two restrooms and a dump station. There are no showers or hookups.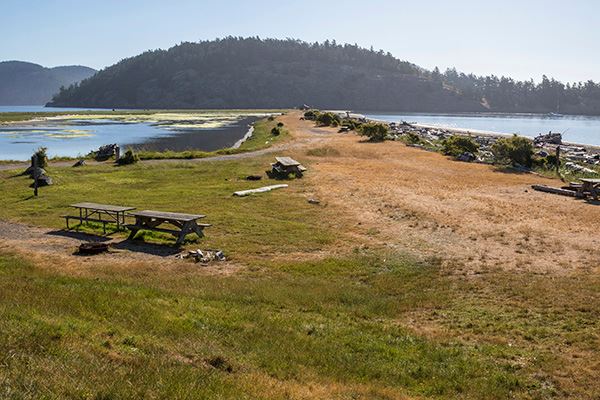 Lopez Islander Resort had both standard campsites with picnic tables and RV sites with electric hookup only. The resort has hot showers and access to the pool is included with camping. The campground overlooks Fisherman Bay and has easy access to Lopez Village, the parks and beaches.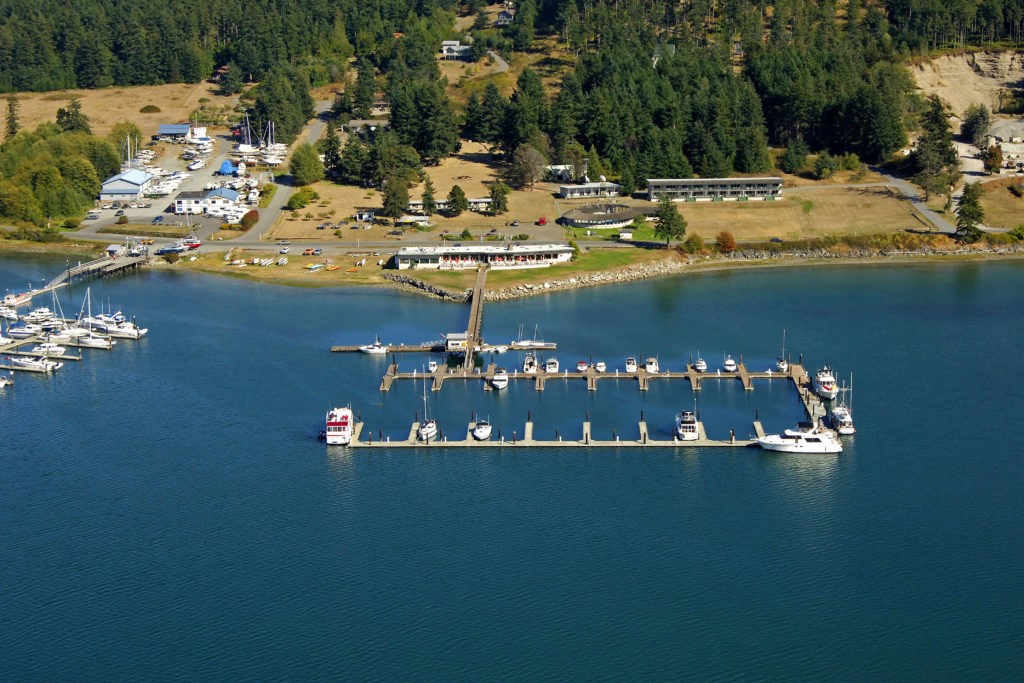 Shaw Island
Shaw County Park is the only place on Shaw Island for visitors to spend the night. The Campground is small and reservations in the summer are highly recommended. The campground is open first come first serve in the winter, but be advised that the water will be shut off during winter season. Campsites are standard with picnic tables and fire pits. RV's and trailers are not advised, and no vehicles over 20 feet long and 9 feet high are allowed. Shaw Island has no commercial amenities aside from a tiny general store at the ferry landing!