Whether you sell your home using a realtor or sell it yourself, getting your home ready to view is a necessity. The process of getting your home ready to market is called 'Staging Your Home'. It absolutely is a theater production, with lights, makeup, props, all being used to tell a story. You want to set the stage so that potential buyers walking in the door can imagine themselves living there. They can visualize their possessions finding a place. You want them to see the story of coming home from work at the end of the day or waking up there in the morning.
So, what's the next step? There are lots of things you can do that are cheap and/or free, things that cost some money and a few things that could be quite expensive. They almost all involve elbow grease and hard work, but that hard work can pay big dividends when the offers come in.
Let's start with first impressions outside.
We get used to seeing our own home because we're in it every day. You need to gain a fresh perspective. The next time you come home, as you pull up to your place try to look at it as if you've never been there before. YIKES!!! It can be a very eye opening experience. Take a couple of photos and keep them as the 'before' photos.
The front yard, front-door and outer entryway are our home's introduction and handshake with potential buyers. Is it a weak handshake? Is it too strong a grip? Is it scary and off putting? Or is it friendly, inviting and welcoming? Clean up the front area. Trim back shrubs and landscaping to open it up. Scrub the front door and windows. If the door is in bad shape give it a coat of paint. Is the screen bent or broken? Repair or replace what you can't fix – it's important. How about the light fixture out front and the welcome mat? Is the doorknob solid and looking fresh, and is the mechanism sound? These are easy things to upgrade and spruce up. If you have a doorbell or knocker, make sure it works. Make sure the house numbers are hanging straight and look nice. If there are steps make sure they are safe with no loose boards or damage.
If you have a porch, deck or screened in area make sure they are sparkling clean and make sure there is NO CLUTTER!!! We want lots of clean open space. If there are chairs make sure they are in working condition, clean and are strategically placed so a buyer can imagine sitting there having a cup of coffee. Don't have lots of statues, or doo dads. If you have plants on the porch or on the deck make sure to have one or two plants not a jungle. Make sure the porch/deck area is clean, window ledges wiped down. If there is a handrail make sure it is sturdy with NO WOBBLE.
Power-wash the steps, decks, sidewalks and patio areas to make them look clean fresh and well cared for. If you have an area in the front yard for flowers, plant something to add a splash of color. If there's no area for planted flowers maybe add a size appropriate planter to provide that extra touch. Keep the grass mowed at all times. Don't have toys, bikes, non-functional vehicles or trash lying around the front area. If you have a pet make sure there are no unwelcome piles of doggy doo. If the parking area is away from the front door but you know potential buyers will using that space to park then spruce that up as well. Add a planter, power wash the area. Cut back shrubs, give it the same treatment you gave the front door/entry.
If you have a mailbox that sits at the end of the driveway take some time and energy to clean, paint and dress it up a little. Add some reflectors if people might be trying to find your property after dark. Make sure the numbers and or name on the mailbox are easy to read and look nice.
Depending on your budget you may want to do more drastic landscaping or more involved repair and replacement like replacing the porch, replacing the front door, repainting trim or painting the whole front of the house. If you are undecided get a couple of opinions from other people.
Once you're done drive away and then come back and look at your place again with fresh eyes, take some photos to keep as your 'after' photos. Quite a difference huh?
In our next blog we will start to take on the inside and how to stage that.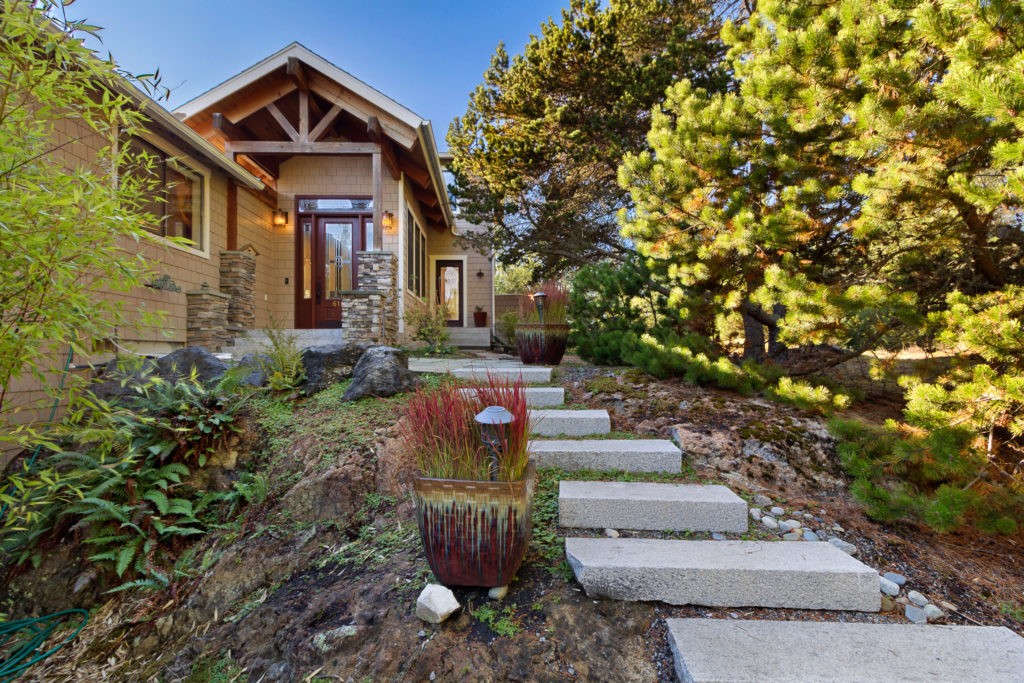 MLS#1206573