There is definitely magic in the air here in the San Juan Islands, a magic you cannot quite put your finger on, a silent allure beckoning. It all starts on the ferry ride over, time slows down as you glide past emerald green islands with rocky shores. The water is ever changing, from completely flat like a mirror to tiny ripples to back to flat and in place where the currents hit rocks underwater it might even become a swell. There are sailboats and fishing boats criss crossing, flocks of seagulls flying, the occasional seal popping its head out of the water. If you are really lucky the ferry might slow down or even stop completely for a humpback whale or a pod of orcas!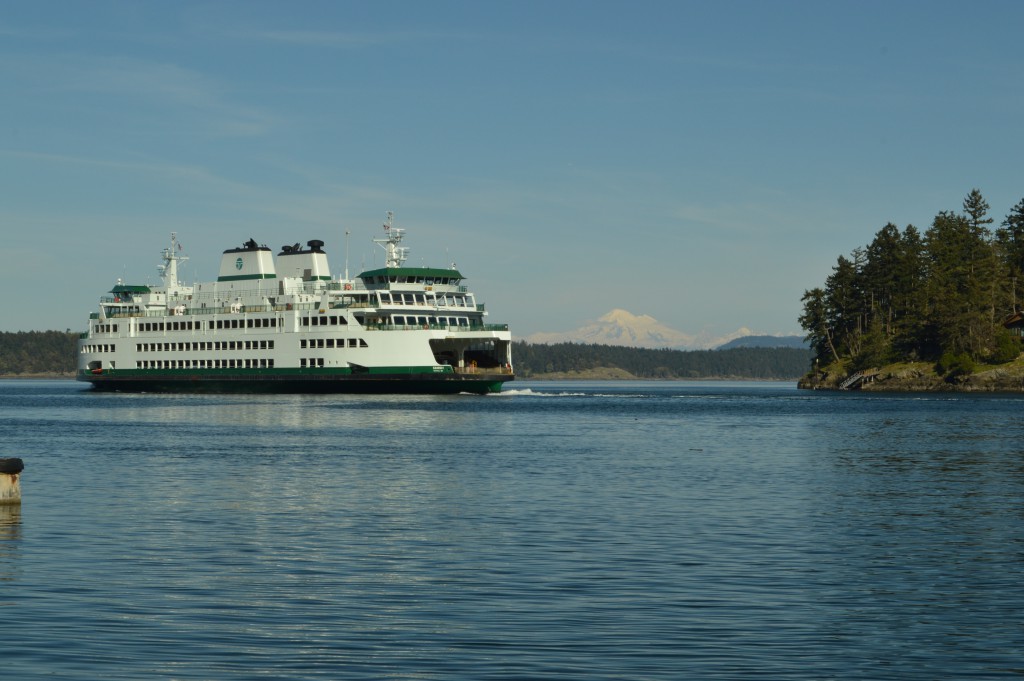 The ferry arriving in Friday Harbor
Of the four ferry serviced main islands, each and every one has their own special magic. Shaw Island is the smallest and most rural one of the four, with only one General Store right at the ferry landing. It is home to a tiny library, a historic one room schoolhouse and a log cabin museum. It is also home to two orders of nuns, the Benedictine nuns run the Our Lady Of The Rock Monastery and the Sisters Of Mercy own a small unofficial retreat center. Other than a campground at the Shaw County Park there are no tourist accommodations on Shaw Island.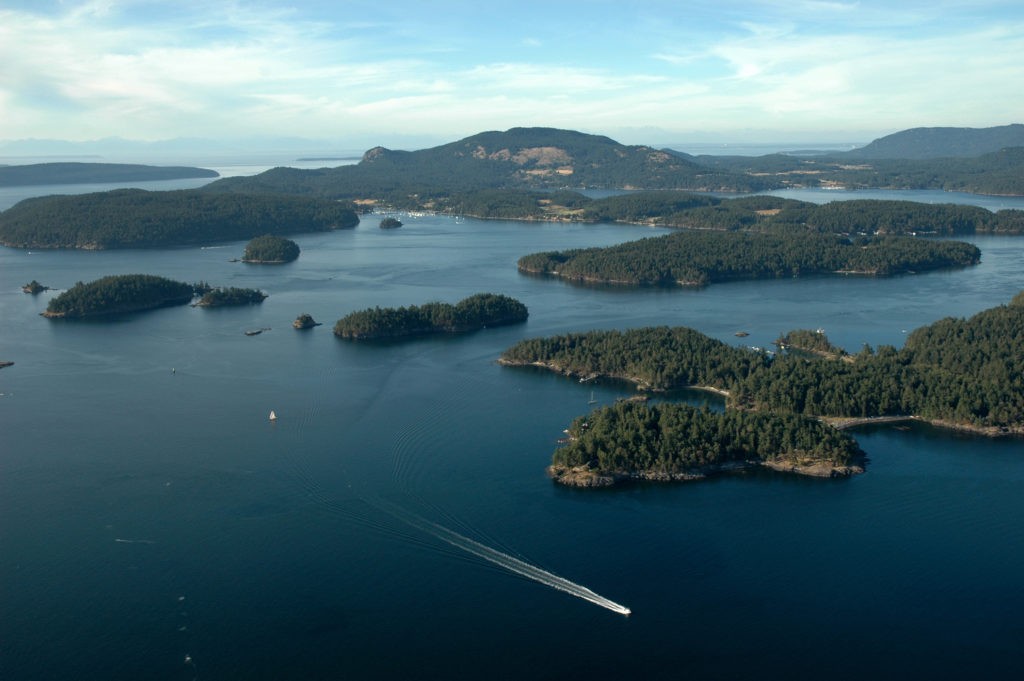 Aerial over the north end of Shaw to Deer Harbor and Turtleback Mountain on Orcas Island
Lopez Island is the third largest of the four main islands and much flatter which makes it a favorite for bicyclists from all over the world. Lopez Residents are really friendly as well, waving while passing each other on the street is a longstanding custom. It offers rolling terrain of farmland, forest and beaches. If you love to collect rocks then Agate Beach is the place to go. Lopez has public parks and beaches on pretty much all its sides, it is a fabulous place to go explore. Lopez Village offers some delectable places for nourishment as well.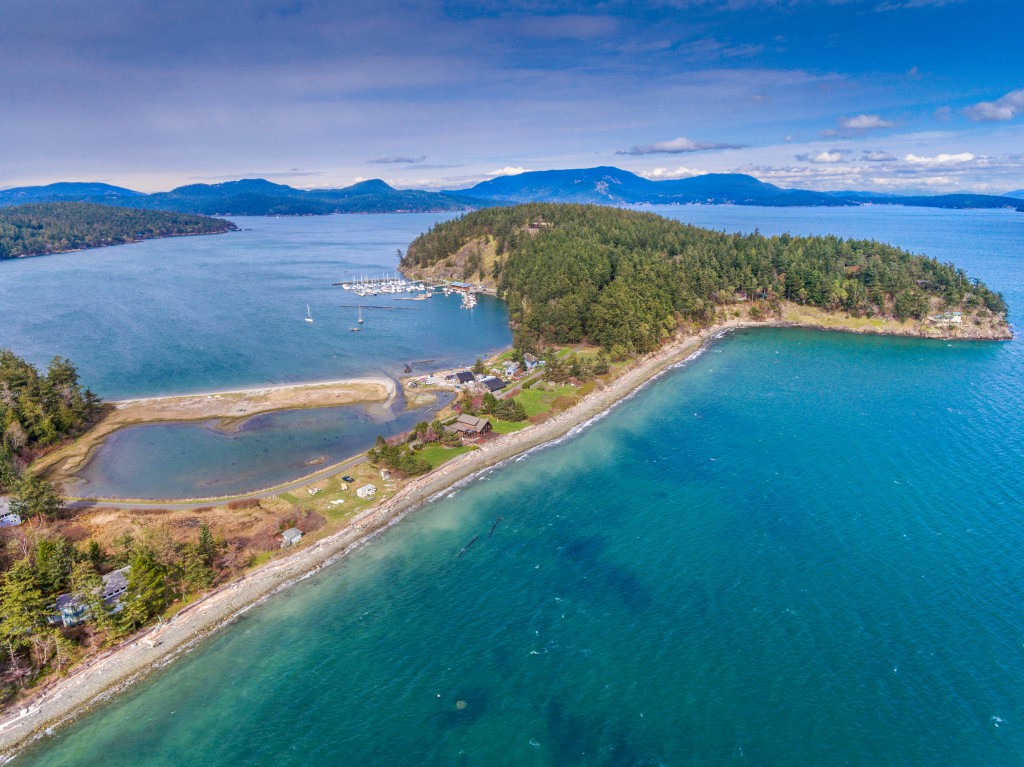 Humphrey Head with Spencer's Landing Marina on Lopez Island
Orcas Island is the largest of the four main islands and has the highest point of the archipelago with Mount Constitution, which sits in beautiful Moran State Park. With miles and miles of hiking trails, several lakes and waterfalls, Moran State Park is a must see for any visitor to Orcas Island! Many people think that Orcas is named after our famous orca whales, which however, is not the case. It is actually named after Juan Vicente de Güemes Padilla Horcasitas y Aguayo, quite the mouthful right? So, Orcas is short for Horcasitas! If you are wondering who the guy with the long name was, he was the viceroy of Mexico who sent an expedition to the Pacific Northwest in 1791. While Lopez is quite flat, Orcas is hilly, with curvy roads that wind through forests, pastures and small villages. Orcas Island has lots of places to stop for foodies and offers a wide variety of local art.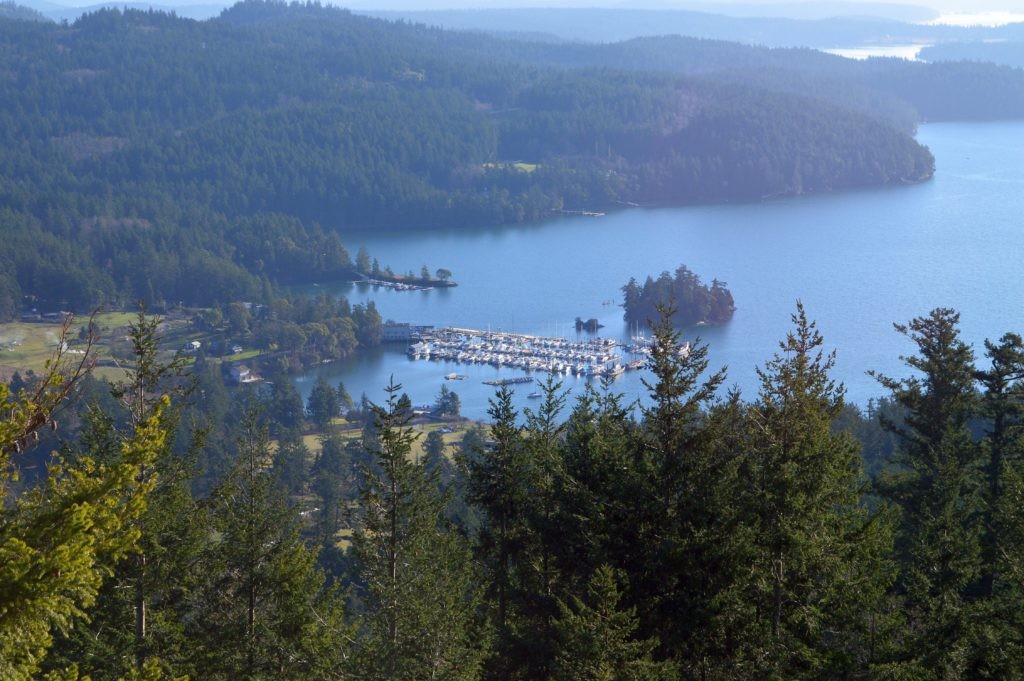 View of Westsound Marina on Orcas Island from Turtleback Mountain
San Juan Island is the second largest of the four, but the most populated and the only one with an incorporated city, which is Friday Harbor. Friday Harbor was incorporated in 1909 and is the major commercial center and county seat of the San Juan Islands. San Juan Island is home to two National Historical Parks, American Camp at the south end of the island and English Camp at the north end. The two camps were involved in the now famous Pig War, a thankfully bloodless confrontation between the US and Great Britain over British-US border in 1859. The San Juan Islands were awarded to the US in a third-party arbitration. The West side of the island is one of the best places in the Pacific Northwest to spot the endangered Southern Resident Killer Whales. San Juan Island is also home to Roche Harbor, which at one point was a major limestone quarry and is now a quaint resort and marina, with one of the better protected anchorages in the islands.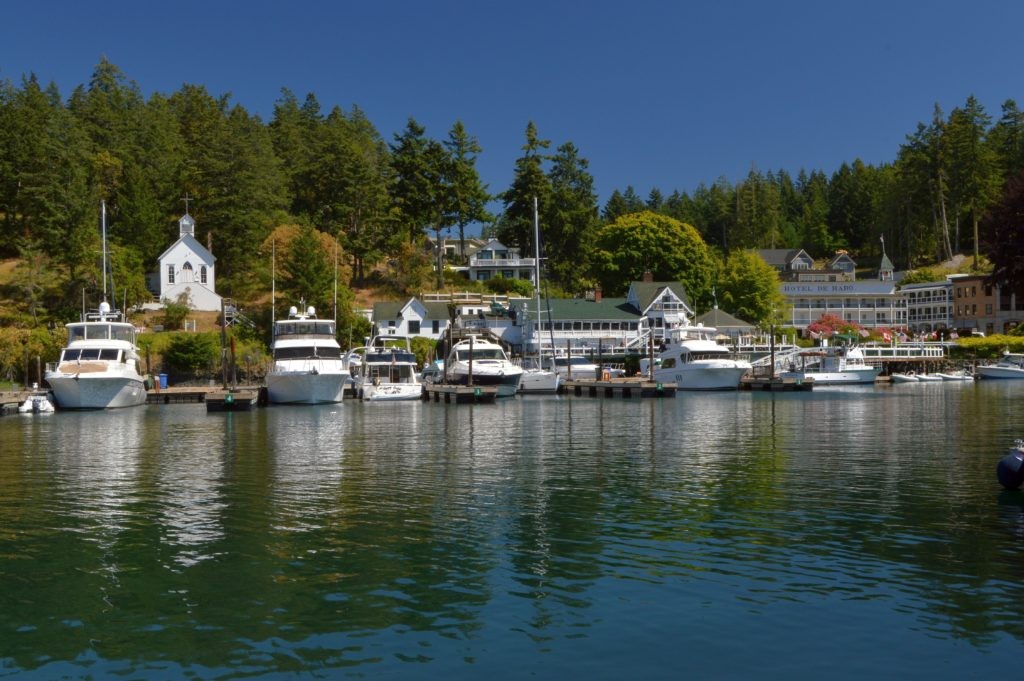 Roche Harbor Resort on San Juan Island
As you can see, there is lots to love on each and every island and I could fill page after page with more cool details. The best way to experience all the San Juan Islands have to offer is to come up and spend a few days or weeks. Summer is the busiest season, with ferries that are filled to the brim with excited tourists. Fall dazzles with orange in all hues. Winter is quiet with crisp and clear days and spectacular views. Spring is vibrant with new growth and colorful wildflowers. There is definitely something for everyone up here in our neck of the woods.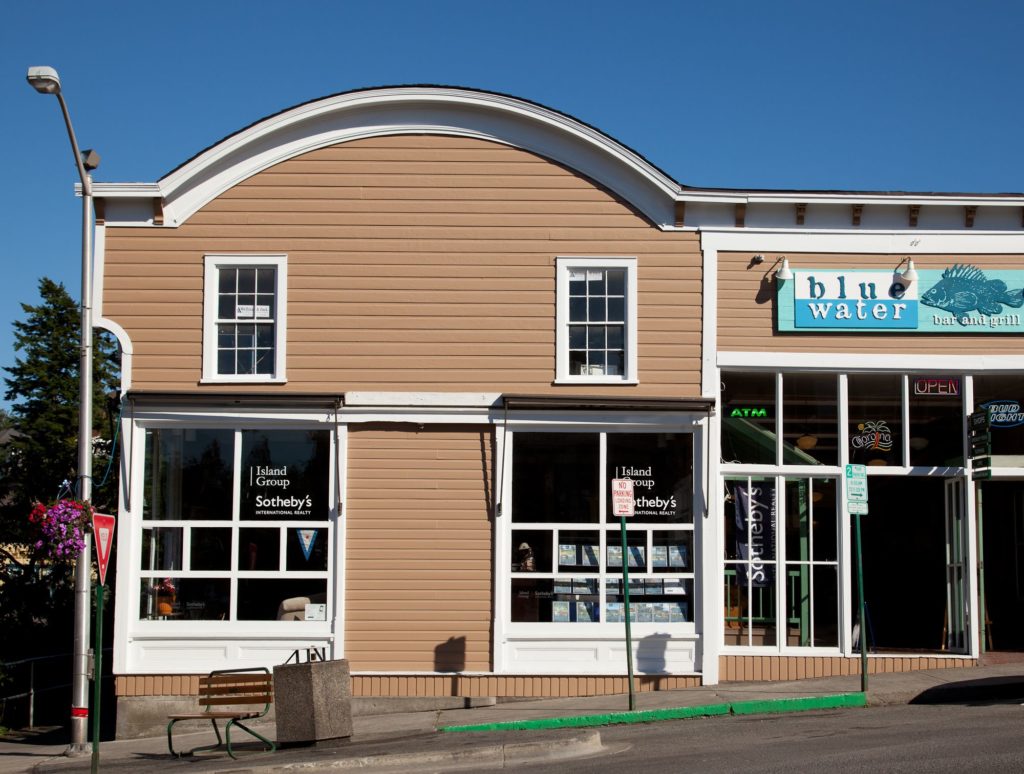 Our office in Friday Harbor, on the corner of Front Street and Spring Street
If you come up and visit and fall in love with the place like most of us did already living here, come stop by our office to talk to one of our friendly local brokers on how you can find your dream home in this magical corner of the world! We are open 7 days a week and are just a hop and a skip from the ferry landing in Friday Harbor, right on the corner of Front and Spring Street.
To go to our website click here www.sanjuanrealestate.com