Visitors, have you ever wanted to visit a beach that wasn't known to the general public, but a favorite with locals? Do you look down unpaved roads to discover where they might end up
San Juan Island hosts two National Parks, both with beaches. These are arguably the most popular places to visit on the island, however for those who like the process of discovery, here are a two parks which I am willing to share. They are favorites of locals are smaller and are likely to be less peopled.
Ruben Tarte County Park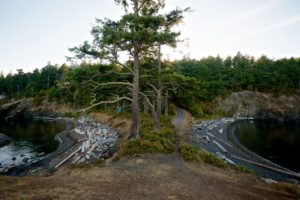 This mostly unused park is reached by driving down Rouleau Road to Limestone Point Road, the turning to the right on San Juan Drive until you come to the Ruben Tarte County Park Sign. It's a steep drive down and you can also park at the top and park as parking at the bottom is limited. Ruben Tarte was named after a member of the Tarte family, former owners of Roche Harbor Resort. It is on a tombolo, with a pebble beach on each side. You have lovely views to the east of the traffic down San Juan Channel. This view below is from the Tombolo, looking back toward the road. You can see both beaches and the driftwood along the shoreline. This park is a day use only park. Look for agates along the water's edge, eagles above looking to catch fish, and otters.
San Juan County Park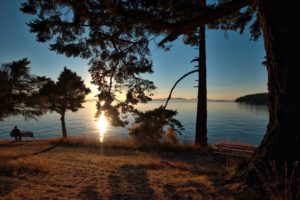 The second park is accessed off of West Side Road. Turn left at the San Juan County Park sign. You will pass on the right a log cabin and a wide lawn where often kayakers are camping. There is a boat launch area on the left and up the hill you will find some campsites. These sites can be reserved in advance by the calling the park. The views are to the sunset and the traffic on the west side going to and from Canada.
There is a path down to a nice beach and parking to just sit and watch the sun as it sets into the Salish sea. It is possible to catch a glimpse of Orca whales here as the east side of San Juan are their feeding grounds. I was lucky enough to see a baby whale swim alongside of her mother there. Minkes are also common along these waters. Even if you are not planning on camping, it could be fun to go to this park at sunset. Sometimes you might even see the wild turkeys who also like to hang out here. Enjoy!