Shaw Island is not like San Juan, Orcas or Lopez…it only has about 250 residents year round. But Shaw Island IS like San Juan, Orcas and Lopez because it is served by the Washington State Ferries. On Shaw, there is just one store, and there are no hotels or restaurants. What there is: an active and interesting community of people who love their island and their style of life. May 1 is the day the Little Portion Store opens for Shaw Island. This store, formerly run by the nuns, has groceries and island specialties and a small area where residents can order coffee or soup for lunch. It is next to the post office of Shaw Island, which is also a local meeting place. All of this is at the ferry terminal which is adjacent to a waterfront park with picnic facilities so you can watch for the ferry to come in while you catch some rays. Opposite the Post Office is the community Kiosk which will have a number of flyers and notices for the people who inhabit the island and for visitors. That's it. Ferry lines, unlike the larger islands, usually consists of just a small number of cars and the reservation system does not apply to Shaw.
For visitors, there is a campsite at South Beach which has picnic tables and waterfront access. You drive off the ferry at Blind Bay, and follow Blind Bay Road to the stop sign at the crossroads. Blind Bay has a big rock that rises close to the surface which has fooled many a pleasure boat. Along the bay you will see pretty waterfront and boats at buoys. To the left, there are residences and farmhouses. You will immediately see that it is a rural island.
When you come to Smuggler's Bay on your right you will see the road on your left that goes down to the county park at South Beach. Signage is good and the letters are hand written on old weathered driftwood pieces on posts. Also note the community Center, a place that sees many diverse events. I took a class in the Turkish Language there. Visiting lecturers, movies, meetings, and gatherings. Although Shaw is small in number of residences, it is wide in things to do together and a true sense of community.
If you continue on Blind Bay Road instead of going to the County Park, you will come to the crossroads. At the Crossroads you will see interesting log structures which consists of the historical museum and the library and opposite that is the school on Shaw, with a very impressive student to teacher ratio. In high school the Shaw kids get a choice of Anacortes, Orcas, or Lopez to finish up their requirements for graduation. The Shaw Island school is one of the longest operating schools in the state of Washington. You are likely to see some of the students walking around the island if school is not in session. It is nice to walk on Shaw; the traffic is sparse, people wave and watch out for you, and there are even some roadside benches provided by homeowners to sit and rest upon. If you prefer to drive for an island tour, take the road to Neck Point where there is a waterfront community and shared small marina for the owners, and even an outdoor swimming pool. You will note that all over the island there are many Private Property and No Trespassing signs. It is not that Shaw Islanders are unfriendly, but rather that they do respect each other's privacy.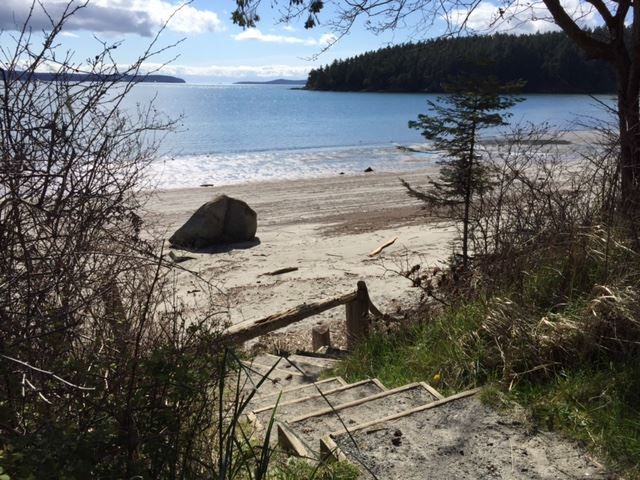 The San Juan County Park on Shaw. Go to http://sanjuanco.com/523/Shaw-Island for more information.