For this week's blog I thought that I would ask a new resident who recently purchased her home on San Juan Island, what things about San Juan were a pleasant surprise to her now that she has lived here a few months. Her thoughtful list, recorded below, rang true to me after living here since 1977.
"I had visited the San Juan Island for years. I thought I knew the island well. But actually living here continues to offer delightful surprises.
There is a special quality to the light in these islands. A familiar view over a valley or out to a bay dramatically changes from day to day–and even hour to hour–as the sun burns off fog or clouds suddenly mute the sunshine. It turns even an ordinary errand to town into something delightful.
And the stars! Once you are away from the lights of town, the sky is suddenly filled with more stars than you have ever seen. I have come home after dark, looked up and been stunned at the sheer, lush beauty of the Milky Way.
Island winters are seldom bitterly cold. Heavy rains and strong winds come and go quickly, followed by blinding sunshine and crystalline air. On a recent walk on the hills above South Beach, I could see all the way to Mt. Rainier!
I doubt that I will ever take the beauty I've found on San Juan Island for granted. It was a reason for moving here and it will keep me here forever."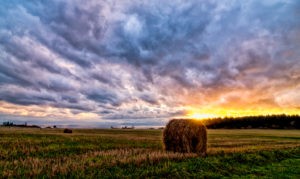 Photo Credit: Chris Teren ~ terenphotography.com