What is home staging?
Home staging is the process of adding, removing and rearranging furniture and decor, hence dressing up the home to make it look exceptional for listing photos and showings. Home staging is an important marketing strategy that will make even the darkest, saddest space feel bright, energetic, and homey. It certainly can turn around a sale on a house that was otherwise not moving.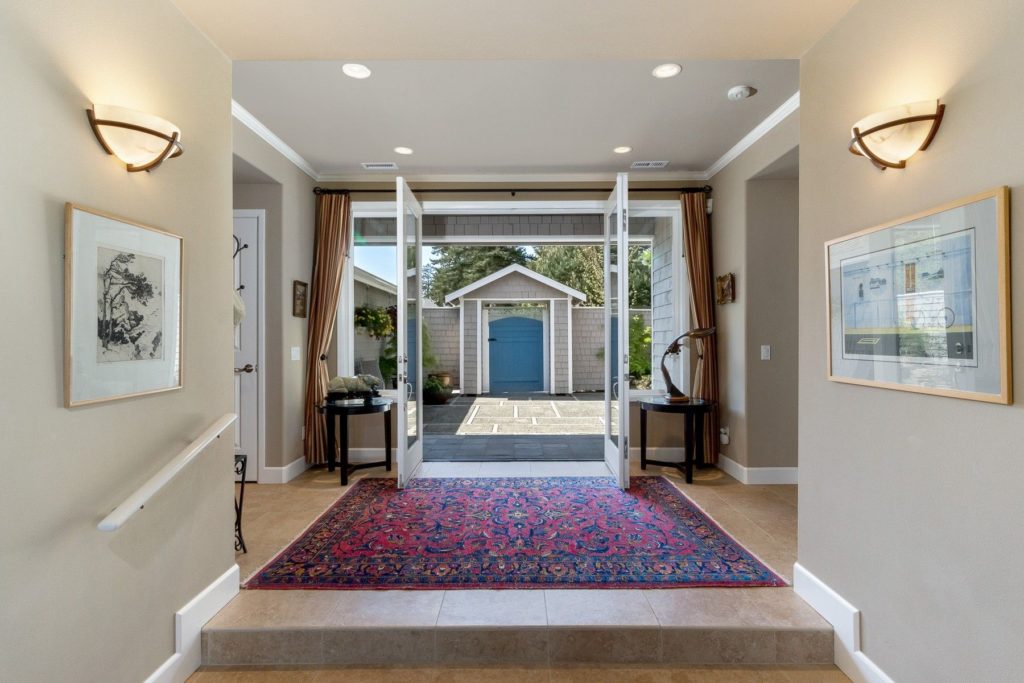 Staging your home to sell means that you will have to invest some time up front, but it will be well worth it in the long run. Staged homes sell faster and often with higher sales prices than un-staged homes do. You initially stage the home so that nice professional pictures can be taken, but you want to keep it as staged as possible for times when potential buyers come and have a look. Many people may have to rent a storage unit for a few months or find a friend's garage to store some stuff in during the selling process. It may also be worth investing in a professional designer experienced with staging homes. First things first, here are some ideas to get you started:
Living Room
Remove unnecessary furniture. You know those TV trays you keep handy? Stow them away.
Pull furniture like couches and coffee tables away from the wall if at all possible. Having a bit of air between the couch and the wall will make the room feel less cramped. Bookshelves or side tables on the other hand, are different story and should definitely stay up against the wall.
Replace dark curtains with lighter colors. It will brighten up the space and make it seem bigger. If the room is small to begin with, consider not having drapes at all.
Group smaller, similar art together and hang the largest artwork on the largest wall. Art should be hung at eye level. The key word on art work is "less is more"!
Remove or tuck all cords and wires. Taking away the cable salad will make the room instantly more attractive.
Store away old magazines. If you have to have a magazine, make it a fancy shiny new one, but leave the gossip magazines at the store. A nice coffee table book is even better than magazines.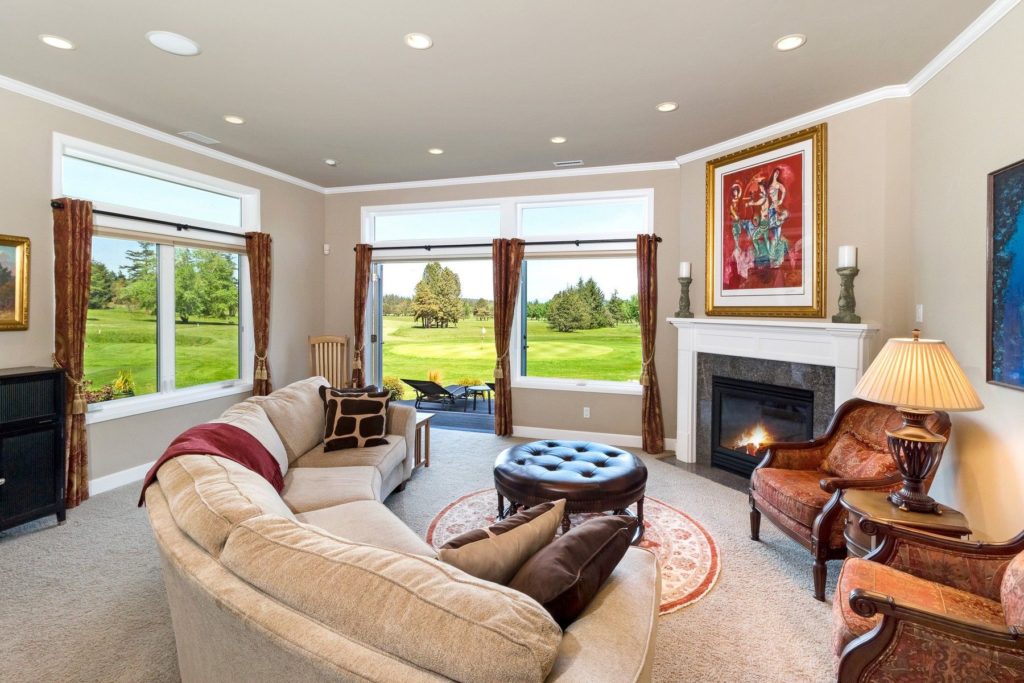 Dining Room
If you have extra leaves in your table, remove the leaves to enlarge the dining area.
Properly set the dinner table with place settings, plates, wineglasses, silverware and a simple but elegant centerpiece.
Hang light colored floor to ceiling curtains. Long curtains add elegance to any room.
Open blinds to let in natural light, because who doesn't like a sunny eating area.
Use 100 watt light bulbs for more light if the natural light doesn't quite cut it and add a mirror to enhance the space further. Mirrors reflect light and open up the space by adding dimension.
Consider leaving one wall bare. This is going back to the principal of "less is more". Do you start seeing the pattern?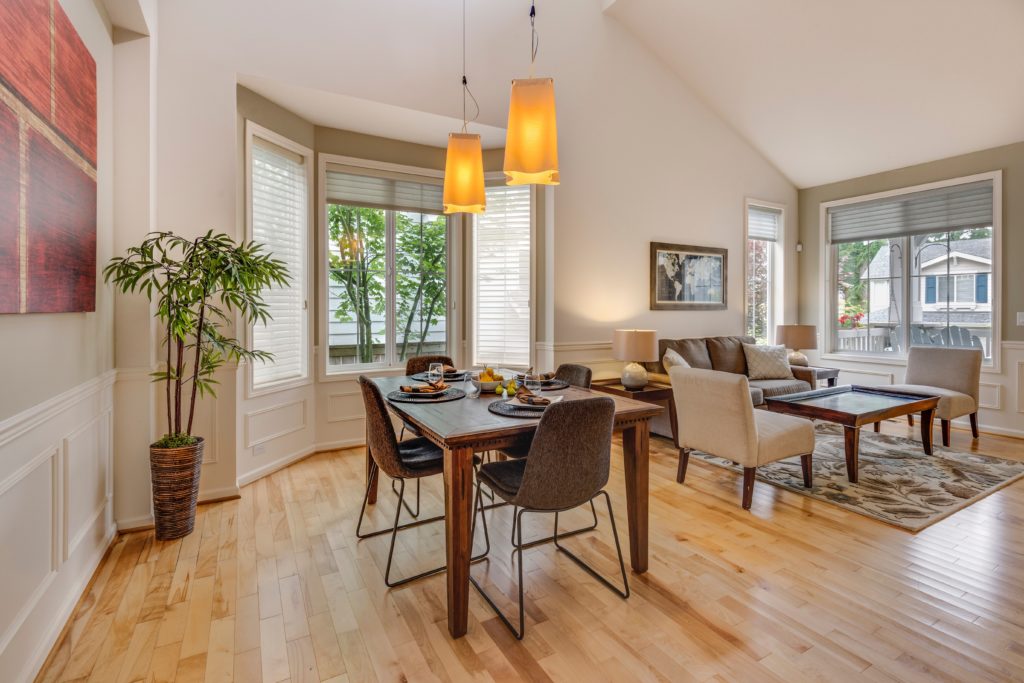 Kitchen
Remove most items on counters, which for most people can prove to be quite difficult. After all we are creatures of comfort and like to have our items ready to go. But do limit what is on your counter to maybe your coffee maker and mixer. It will make your kitchen seems so much bigger!
Add a bowl of fruit or a simple plant to add color.
Stain or paint dated cabinets. If you don't think that painting your kitchen cabinets might be an option, at least make sure you give them a thorough cleaning.
Replace old knobs and hardware. Now is the time to fix broken handles and knobs on your cabinets. It will spruce even an old kitchen right up.
Remove all items from refrigerator doors and the top. We all have our magnet collections and little snippets of life on our refrigerators, and if you are like me, the top of the fridge doubles as storage space. Take everything off the fridge for now and if your fridge is stainless, make sure it is spotless.
Add a new backsplash to add personality to your kitchen. And yes, a backsplash does not have to be tile…be creative, but make sure it fits the space! My new favorite motto applies again! You guessed it, "less is more"!
Buy a new faucet to replace and old fixture, especially if your faucets are leaky. Now is time to get that fixed!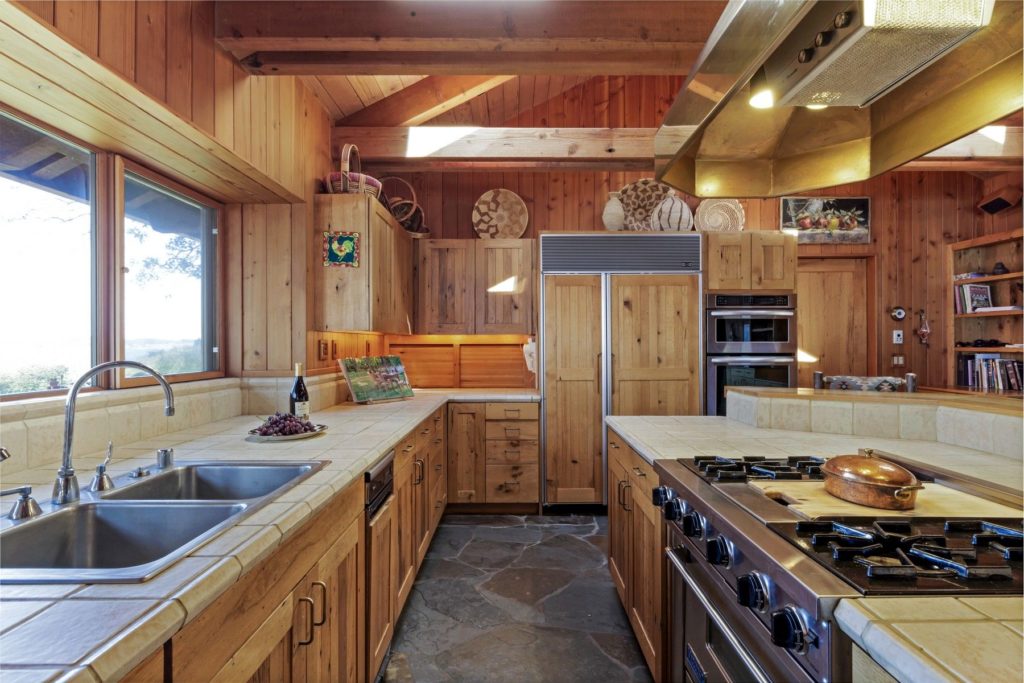 Bedrooms
Remove TVs or any other entertainment items. You may have to do without them for a bit, however, you might end up liking it!
Put fresh white textured linens on all beds. This might be hard to do if you have pets! If you feel that white might be too difficult to keep clean, opt for a solid color, but don't go crazy with patterns!
Add new pillows and throw pillows. Nice throw pillows make your bedroom look like the ones you see in fancy magazines!
Beds should not be pushed into corners. If you have it in the corner now, try to have it centered in the room, just with the back to the wall.
Clear out bookshelves and built-in shelves. They don't have to be completely empty, but make sure they look tidy. It is time to get rid of that extra clutter.
Pack away 50% of the stuff in the closet. You know, if you sell in the winter, pack away the summer stuff and vice versa! A stuffed closet makes it look smaller, a closet with breathing room makes it look bigger!
Hang clothes in groups, like shirts together, pants together, jackets, you get the idea. You could also arrange by colors, above all make sure that everything faces the same direction.
Use all the same hangers in your closets. Yup, all white, or all wood, or at least just all in one color, which will make it instantly look more sophisticated.
Transform "themed rooms" into neutral rooms. Princess rooms or Star Wars rooms just might not spark the buyers imagination of what the house could look like for them.
Clean up and pack away most toys, you don't want anyone tripping over them and a clean room certainly looks better.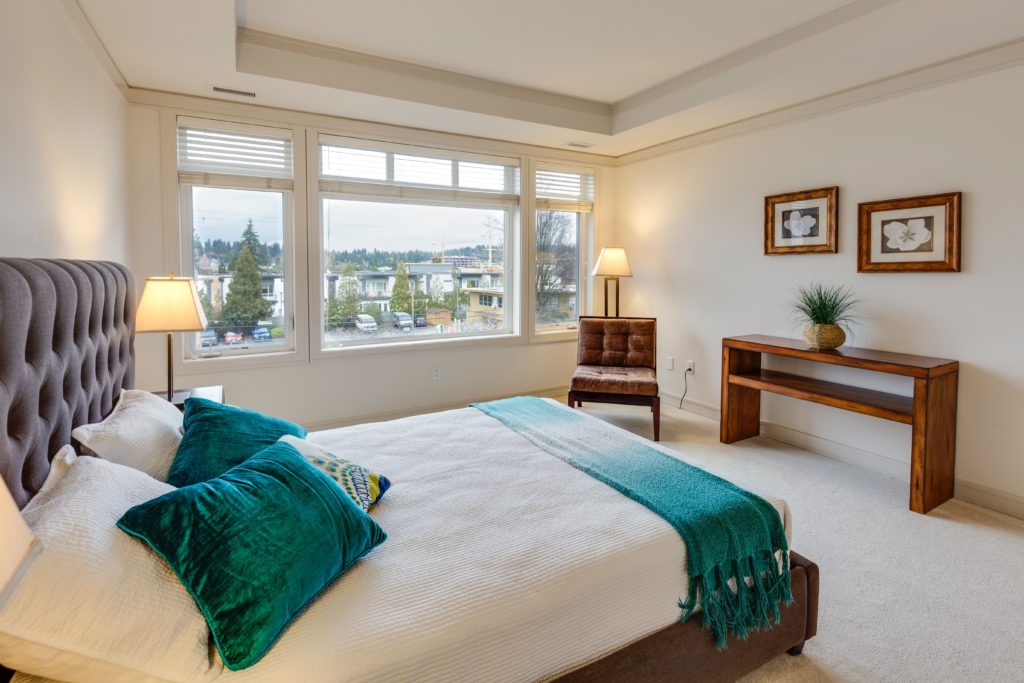 Bathroom
Put away toothbrushes and all toiletry items. Think of a hotel bathroom when you first enter, before you spread your stuff out.
Hang new, white towels and hang them in thirds. If you have an all-white bathroom, colorful towels look great and add a bit of dimension. They all need to be the same color though! Add some rolled up small towels in a basket on the counter.
Apply new caulking around the bathroom, thus making the bathroom look brand new.
Put away the wastebasket. Maybe hide it under the bathroom sink if you have a vanity. If not, remove it completely, at least for photos and showings!
Add a new bottle of hand soap on the counter. You can find nice solid colored soap dispenser at any hardware store, however, make sure the dispenser matches your color scheme!
Fix any leaky faucets and tabs, just like you did in the kitchen.
Clean around and behind toilet and bathtub, those are areas often neglected as they can be hard to get to.
Always keep the toilet seat down and close the lid. It just looks better, period!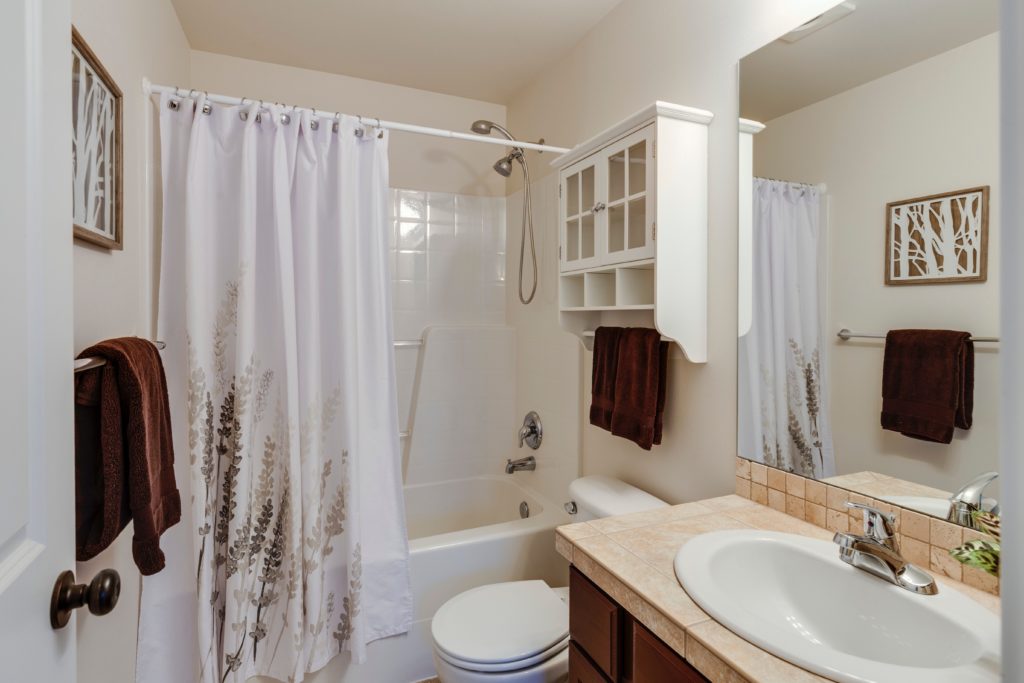 Entryway
Clean and paint front door.
Add new, attractive house numbers or at the very least fix them up so they are even and upright.
Pack away any shoes or coats by the front door. Shoes can be a tripping hazard and not having any hanging coats instantly makes the room bigger.
Add a new welcome mat to entryway and sweep your front step or front porch!


General Ideas
Pack away family portraits. Yes, I know, that one is tough, but trust me on this one. You want the potential buyer imagining their family in there, not yours. Remember this is just temporary.
Clean and shampoo carpets. However, a word of caution for cat owners, getting carpet wet can activate cat pee smell. If there is any chance of cat pee in your carpets it may be wise to think of completely replacing carpeting. If you have hardwood floors wax them.
Don't hide belongings in closets and corners, no matter how tempting. You don't want a potential buyer to open a closet door and unleash the mess!
Make sure any signs of pets are stored away. Limit the beds to one per pet for the time being so you can easily take them with you when you leave for showings. If you have caged pets like birds, bunnies, hamsters, you may want to find them a temporary home away from home. Fish tanks can be left, as long as they are kept clean!
All windows need to open and close easy. Also clean them inside and out, as clean windows instantly let more light in!
Clean and dust ceiling fans and blinds if you have any. These often go neglected as well as they can be hard to clean.
House plants add life and color to your home and will clean the air. But make sure they are alive and not dried out and dead!
Add a long narrow rug in empty hallways to liven them up and add dimension at the same time.
If you have dark corners and areas in our house, brighten them up with a table lamp.
All doors should open and close easily. Fix any squeaky doors throughout the home.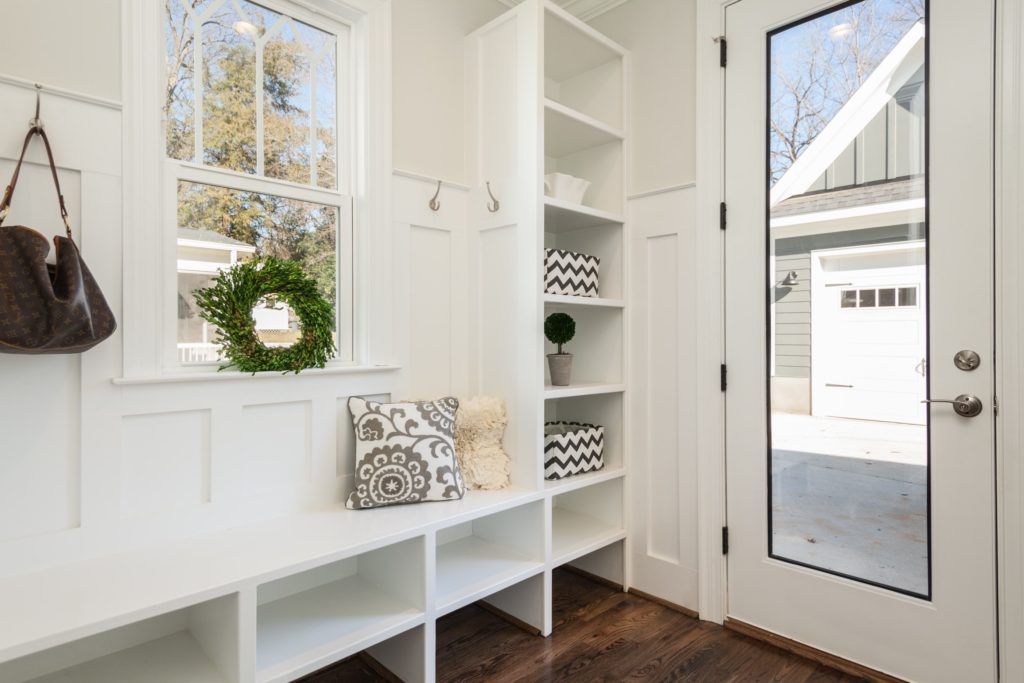 Photos: Wes Edholm and unsplash.com